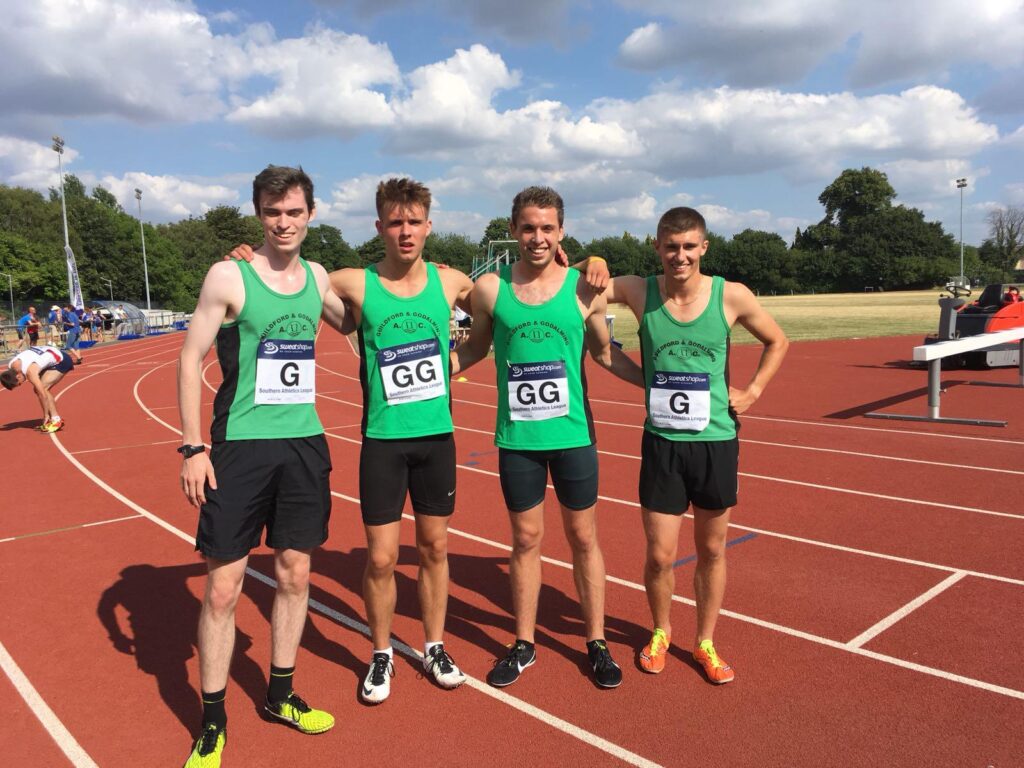 Guildford and Godalming has a flourishing Track and Field section with the men and women competing together in the Southern Athletics League.
Members also compete with success in County, Area and National Championships as well as Open meetings.
Training times at the Spectrum :
April to September
Tuesday: 6.30 pm until 8.30 pm.
Thursday: 6.30 pm until 8.30 pm
October to March
6.30 pm until 8.00pm
Please see below for a list of the 2022 Track and Field Fixtures
| | | | | |
| --- | --- | --- | --- | --- |
| Day | Date | Fixture | Age Group | Venue |
| Sat | Apr-16 | Alder Valley Boys | U17/15/13 | TVAC Eton |
| Sun | Apr-24 | YDL Upper M/W | U20/17 | Perivale |
| Sun | May-01 | Alder Valley Girls | U17/15/13 | TVAC Eton |
| Sun | May-01 | Ebbisham League Boys | U17/15/13 | Kingston |
| Sun | May-08 | YDL Lower Girls Boys | U15/13 | Southampton |
| Sat | May-14 | Surrey Championships | All ages | Kingston |
| Sun | May-15 | Surrey Championships | All ages | Kingston |
| Sat | May-21 | YDL Lower Girls/Boys | U15/13 | Southampton |
| Sun | May-22 | Southern Athletics Lge M/W | Senior** | Guildford |
| Sun | May-29 | YDL Upper M/W | U20/17 | Guildford |
| Sat | Jun-04 | Lily B Girls | U17/15/13 | Ewell |
| Sun | Jun-05 | Alder Valley Boys | U17/15/13 | Hillingdon TBC |
| Sun | Jun-12 | Southern Athletics Lge M/W | Senior** | Kingston |
| Sat | Jun-18 | Alder Valley Girls | U17/15/13 | TVAC Eton |
| Sun | Jun-19 | Ebbisham League Boys | U17/15/13 | Carshalton |
| Sat | Jun-25 | Lily B Girls | U17/15/13 | Guildford |
| Sun | Jun-26 | YDL Upper M/W | U20/17 | Walton |
| Sun | Jul-03 | YDL Lower Girls/Boys | U15/13 | Guildford |
| Sat | Jul-09 | Lily B Girls | U17/15/13 | Kingston |
| Sun | Jul-10 | Alder Valley Boys | U17/15/13 | Bracknell TBC |
| Sat | Jul-16 | Southern Athletics Lge M/W | Senior ** | Guildford |
| Sun | Jul-17 | Ebbisham League Boys | U17/15/13 | Coulsdon |
| Sun | Jul-24 | Alder Valley Girls | U17/15/13 | Guildford |
| Sat | Jul-30 | YDL Lower Girls/Boys | U15/13 | TVAC Eton |
| Sun | Aug-07 | YDL Upper M/W | U20/17 | Stevenage |
| Sat | Aug-13 | Southern Athletics Lge M/W | Senior** | Oxford |
| Sat | Aug-27 | Lily B Girls FINAL | U17/15/12 | Carshalton |
| Sat | Sep-10 | Southern Athletics Lge M/W | Senior ** | Wimbledon |
**Senior includes U17 & U20