Masters XC County Champions Crowned at Nonsuch
Surrey Masters XC Championships – Nonsuch Park – Saturday 28th October 2023.
It was another fabulous day for the Club at the Surrey Masters Cross Country Championships held at a very muddy Nonsuch Park in Cheam. A strong contingent of 23 sought to match the successes achieved at this event last season. They did not leave the venue disappointed! This was the third time in succession Nonsuch Park was selected as the host location, since a double booking of Morden Park in 2021 had resulted in a very late switch to this venue.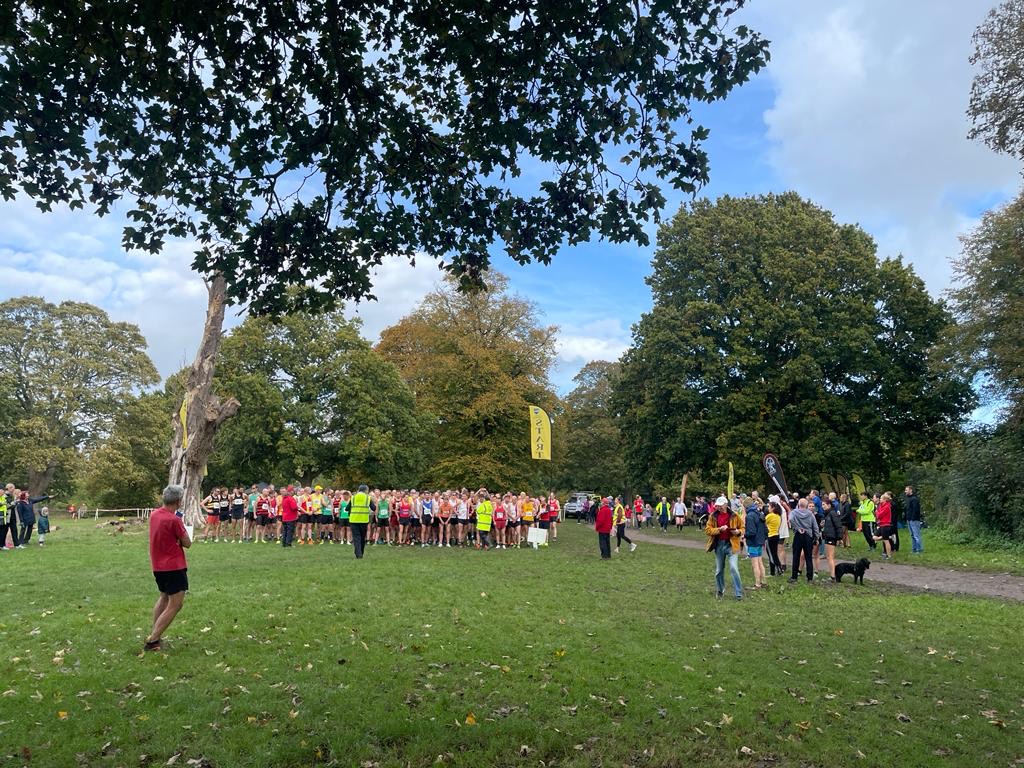 The format is two races with all women and men over 65 in race 1; followed by the men over 35 in race 2. Individual awards are presented in 5 year bands (v35-39, v40-44…) and teams in 10 year bands (v35-44, v45-54…).
This was the first time that men over 35 were admitted to run at this event, in line with UK Athletics rules. This did, however, affect the team configurations for the men which previously had been m40-49 and m50-59 and would now be m35-44 and m45-54. This change also meant that the m60-64 age group – who had previously competed alongside the women in race 1 – would now compete in race 2 to make up the m55-64 team band.
Both races combined attracted 294 participants – 23 of whom were wearing the green & black of Guildford & Godalming.
Race 1 (w35+ & m65+) – 2 laps (6.2k).
The G's women set the tone for the day with some excellent individual and team medal performances. Susanna Harrison (w60-1) was first home for the women in 23rd place overall – easily good enough for the w60 title. Susanna has had a remarkable sequence of results at this event. In her debut at this event in 2002 she won the women's race outright to take the w35 title. On that occasion the runner-up was South London Harriers' Pippa Major both are still competing against one another today.
The G's achieved a silver medal in the w45-54 team race; including a silver individual medal for Rebecca Brennan (w45-2). This was Rebecca's first individual medal at this event and she was very surprised afterwards to discover that the gold was a mere 5 seconds away. Strong runs by Laura Hales (w50-8) and Kate Ayling (w45-7) completed the silver winning trio, ably supported by Beth Davies (w50-12) in this age group.
Jackie White (w35-4) competed very well in her cross-country debut with the G's finishing fourth in the w35 category. Paul Sanderson (m65-6) now in his fourth decade with the Club was our sole representative in the men over 65 race, finishing a respectable sixth in his age group.
Race 2 (m35-64) – 3 laps (9.3k).
The men do an extra lap of the 3.1k course and first home for the G's was Colin High (m35-1) in fourth place overall to take the first ever m35 title at this event. Next in was Ollie Gosden (m45-1) claiming the m45 title. Nick Tearle (m50-2) not to be outdone also claimed an individual medal – the silver – was home next. Nick has had a decent summer in the Surrey Road League finishing strong in the Cabbage Patch 10m the day after running in the opening Surrey League Cross Country fixture and now looks to be continuing his good form off-road. Terry Booth (m55-1) and Mark Tennyson (m60-1) followed both taking gold in their respective age categories. Guy Holcroft (m55-4) was next in. Guy along with Terry & Mark combined to take the m55-64 team title.
David Williams a silver team medallist last season and who had missed the bronze individual medal by 2 seconds made amends this time with a bronze in the m60 category. Alistair Wilkie (m40-6) and Ben Gilmore (m45-12) were next. Ben concluded the three required for a team in the m45-54 category and along with Ollie & Nick came away with a silver team medal. Then next three of our m50's – Ian Davies (m50-9), Robin Boon (m50-10) and Philip Pryke (m50-12) and then three of our m55's – Jonathan Monk (m55-12), Rob Bate (m55-19) and Rob Harrison (m55-28) completed a successful day out for the Club.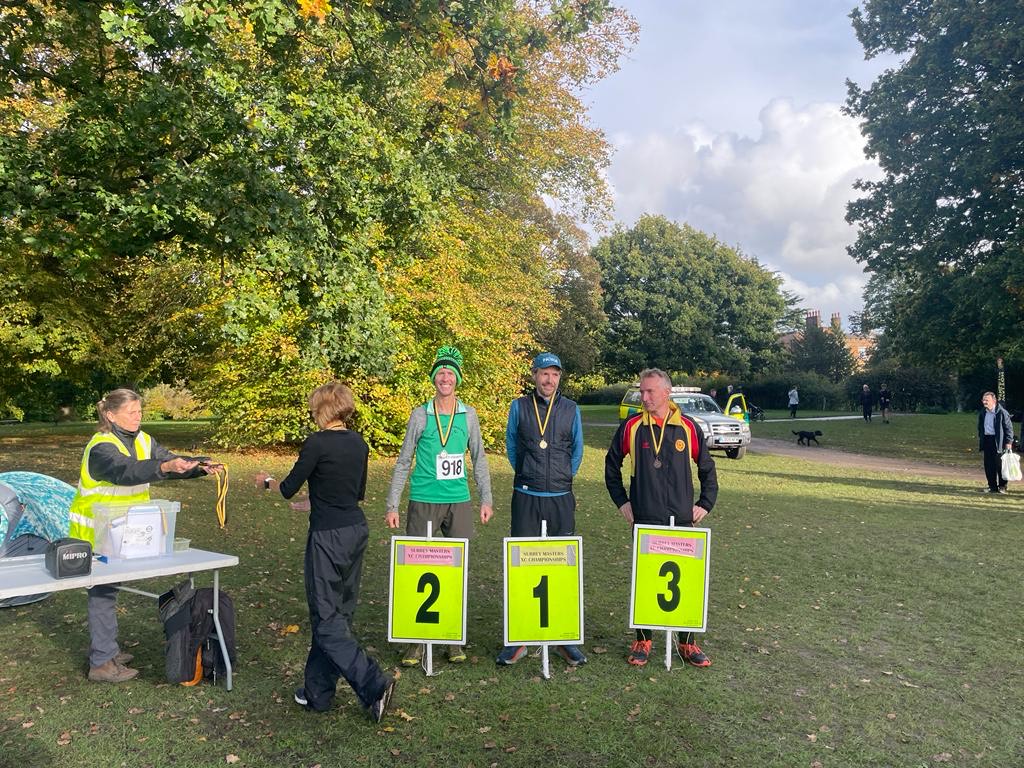 Teams – W45-54 Points
1 – South London Harriers 10
2 – Guildford & Godalming 15
3 – Collingwood 25
Teams – M45-54 Points
1 – Epsom & Ewell 15
2 – Guildford & Godalming 18
3 – South London Harriers 25
Teams – M55-64 Points
1 – Guildford & Godalming 8
2 – Herne Hill Harriers 23
3 – South London Harriers 24
Silverware for GGAC at the Reigate Cross-Country Relays. 
Reigate Priory XC Relays – Priory Park – Saturday 04th November 2023.
Four GGAC teams took part in the 67th edition of these popular cross-country relays held annually in Priory Park, Reigate.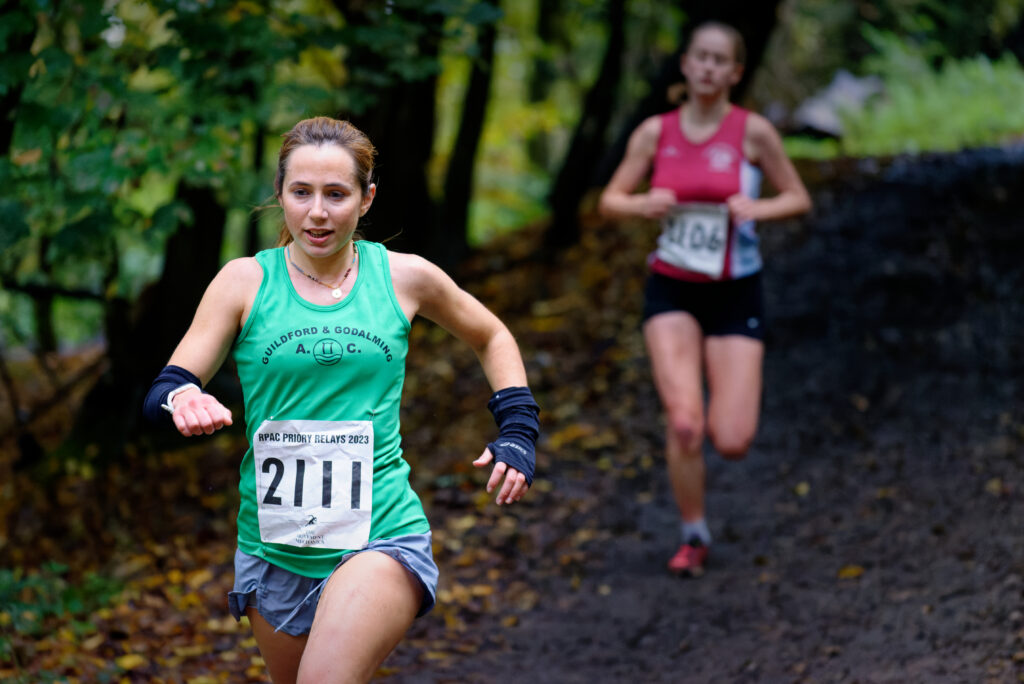 The course was in reasonable condition considering the amount of rain that had fallen in the preceding days. Even the forecast for a drier afternoon on the day of the event proved incorrect as the rain persisted on and off whilst the racing was in full flow.
Due to unfinished path improvement works the course was revised for this edition of the race. The revision included running up the slope which is normally the down and down a steeper slope which is quite treacherous when wet and wet it certainly was. Before the down there was an out and back section along the ridge which forms a part of the 'Greensand Way'. The final revision to the course was the inclusion of a circular section round the 'Priory Lake'.
The usual course is 4k this version was slightly under. All teams start together with each team member completing a single lap. The women complete three legs and the men four.
The G's 'A' team of Simon Zieleniewski, Nick Lightfoot, Ollie Gosden and Nick Tearle had a race-long battle with Walton AC who eventually claimed the win. Second for the Club was a tremendous result and they were well clear of the nearest chasing team. Nick L and Ollie clocked the 2nd and 4th fastest individual legs respectively. Simon and Nick T ran the 19th and 11th quickest men's times of the day.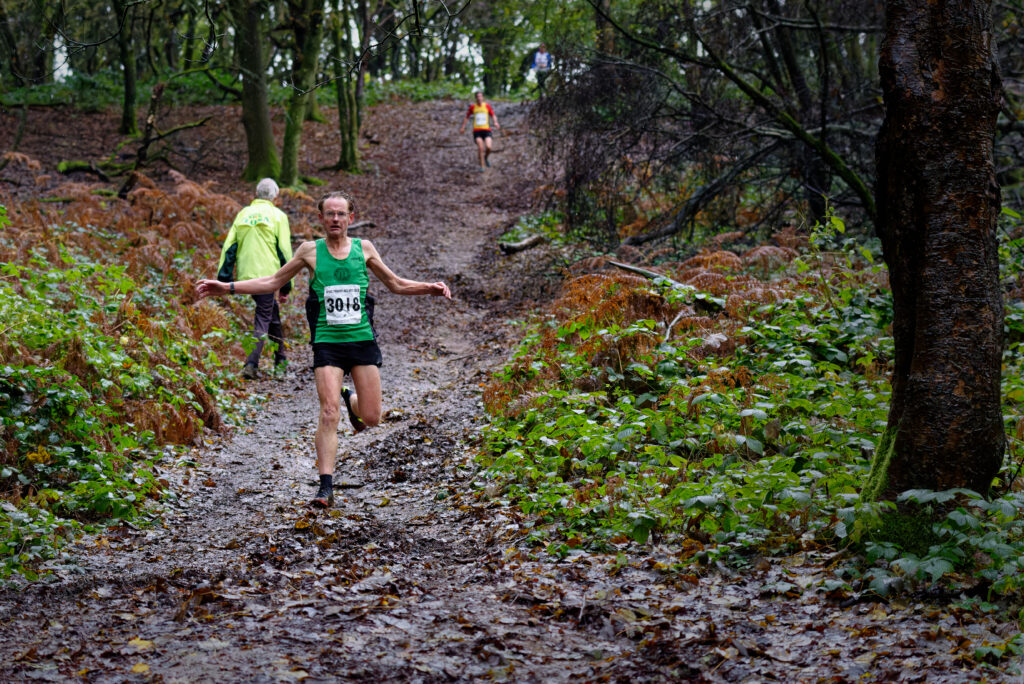 The 'B' team of Robin Boon, Ian Davies, Mark Tennyson and Terry Booth linked well to finish in 9th place overall. The 'C' team of Dan Milton, Brian O'Kane, Al Gibson and Robin Boon also performed well finishing 26th from 42 teams. Somehow Robin achieved the remarkable feat of running two-legs within 2s of one another. His second leg was the one marginally slower!
Rebecca Brennan, Lourdes Perez-Barragan and Beth Davies combined well to finish 15th out of the 38 women's teams.
Next up for the Club is the second Division 1 fixture of the Surrey Cross-Country League at Mitcham.
2023 Surrey Road League Final Standings

The final league tables have now been compiled for the the 2023 SRL. The titles are based on the best five results from this eight race series (for both teams and individuals). Congratulations to:
GGAC Women – 3rd team
GGAC Men – 5th team
Callum Job – 1st Senior Man
Jilly Raw – 2nd F35
Nick Tearle – 2nd M50
Clare Coley-Maud – 3rd Senior Lady
Christine Robinson – 3rd F45
Susanna Harrison – 4th F55
Ali Wilkie – 9th M40